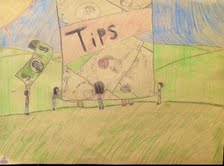 Young Entrepreneurs Making the Leap to Millionaire. Juliana D. Norwood. OurWeekly.com.
…But a problem has been that few of these wunderkinds making it big looked like us or came from our neighborhoods, and a common misconception arose that the only way to get paid like Parker was to lay some clever wordplay over a hot beat or develop a wicked jump shot. But now, it seems that more and more African American youth are shattering the under-30 barrier and realizing that there is more than one way to win at Who Wants to be a Millionaire? And they are taking their ideas straight to the bank.
From a Family of Black Businesses: Youth Entrepreneur, Author at Black Wall Street: Gabrielle Jordan Williams. Baltimore News.
Gabrielle Jordan Williams became an entrepreneur at the age of 9 and an author and speaker at the age of 11.  She began creating jewelry at the age of 7 and has aggressively pursued her craft with the passion of a seasoned pro.
Entrepreneur of the Week: 14-Year-Old CEO Chental-Song Bembry. LaToya M. Smith. BlackEnterprise.com.
Teen author, illustrator, and entrepreneur gives tips to help other young writers enter the literary field and start their own businesses
Successful Black Youth. ConsciousPlat.com.
Many times we hear negative stories about the Black youth. Many of our youth have made great achievements. These are their stories.
12-Year Old Becomes CEO and has Definite Plans in Life. The Self-Employed Black Youth.
Check out 12-yr old Amiya a girl driven to succeed at a young age. Amiya is CEO of her own company "Amiya's Mobile Dance Academy" in Detroit. …Her business has already accumulated $10,000 which she is investing and saving for Harvard Medical School.
Raising Owner-Entrepreneurs Would Solve Youth Unemployment, Spur Growth and Rescue Low Income Communities. Steve Mariotti (Founder, Network for Teaching Entrepreneurship). The Huffington Post.                       
….I have just one question: If entrepreneurship is this vital to the American economy, why aren't we teaching every high school student in this country how to start and operate a small business?…
I don't believe our teenagers lack initiative or don't want to work. I believe many do not know how to create opportunities for themselves because they have not been exposed to the tools necessary to create ownership of assets within the free enterprise system. As an educator of at-risk youth for thirty years and the founder of the Network for Teaching Entrepreneurship (NFTE), I have seen firsthand the powerful effect that learning to start and operate a small business has on young people.
The time is now for an unprecedented initiative in owner-entrepreneurship education to reduce these catastrophic youth unemployment rates…
Magic Johnson Now Dazzling Youth with his Entrepreneurial Skills. Simeon Gant. Ourweekly.com.
High school and college students recently received a few basic principles on how to succeed in business from legendary basketball star, Earvin "Magic" Johnson. With candor, wit and all seriousness, the Hall of Fame "great" explained to more than 80 youth at the Ron Brown Youth Entrepreneur Summit his kernels of success and how he matriculated from athlete to businessman.
Creating Teen Entrepreneurs. Rhonda Campbell. The Network Journal.
A wise generation trains its youth for leadership and business ownership. Doing so helps to prevent gains made by a previous generation from eroding over time. On October 13, 2010, President Barack Obama acknowledged the efforts of a group of teens from around the country. They were the winners in the National Youth Entrepreneurship Challenge. Four of the winners are still in high school.
White House Promotes Entrepreneurship Focus for HBCUs and MSIs. Charles Dervarics. DiverseEducation.com.
With employment still lagging in many U.S. regions, the White House brought together minority-serving colleges and top small business experts … to explore the role of historically Black colleges and MSIs in supporting entrepreneurship among current and future students.
Black Entrepreneurship on the Rise as Self-employment becomes an Option for Jobless Black Graduates.  Patrice Peck. The Huffington Post.
…Coupled with this entrepreneurial upsurge is the founding of start-up incubators aimed at training and mentoring aspiring minorities.
The NewMe Accelerator, which was spotlighted in CNN's "Black in America 4" documentary, places aspiring minority and female start-up founders directly into the racially homogenous Silicon Valley. As a single mother and fellow minority eager to tap into the lucrative community, Angela Benton launched the accelerator in 2011 to provide the promising participants with first hand experience in the tech industry.
"A lot of them can't go to their parents or immediate network and say, 'Hey, I want to start this app or this website, how do I get started?'" she said in an interview.
The New York-based 100 Urban Entrepreneurs promotes a similar mission to Benton's incubator, albeit with a more quantitative goal: to identify, finance and mentor 100 urban entrepreneurs from economically disadvantaged communities within 12 months. Big name, self-starter celebrities such as Tyler Perry and P. Diddy donated to the foundation, which has already selected dozens of $10,000 grantees.
Youth Use Entrepreneurship as a Pathway to Success. Marcia Wade Talbert. BlackEnterprise.com.
Running a successful business is not an easy feat no matter what your age. Yet there are teenagers, like Kalief Rollins, the winner of the 2009 National Youth Entrepreneurship Challenge, who were able to benefit from business start-up education and learn not only the value of a dollar, but how to claim the value of his life.
SOME INITIATIVES
Black Enterprise Teenpreneurs Program
Network For Teaching Entrepreneurship (NFTE)
The Network for Teaching Entrepreneurship's mission is to provide programs that inspire young people from low-income communities to stay in school, to recognize business opportunities and to plan for successful futures.
Kaufmann Foundation – Youth Entrepreneurship
What do kids know about being entrepreneurs? Turns out their curiosity about the world around them, natural creativity, willingness to take risks, and unbridled enthusiasm add up to the characteristics of our greatest entrepreneurs. But after we close down our neighborhood lemonade stand, outgrow our babysitting empire, and shut down our lawn mowing business, we often lose our entrepreneurial instincts. Programs supported by the Kauffman Foundation are designed to keep the entrepreneurial flame alive in boys and girls, whose inventiveness and drive can actually teach us something about being entrepreneurs.
Youth Entrepreneurship – Small Business Administration 
Opportunities for Young Entrepreneurs
The SBA has developed a Teen Website designed to introduce young entrepreneurs to the concept of small business ownership as a viable career choice. This innovative Website helps young people shape and implement their dreams of entrepreneurship.
The teen site features the fundamentals of starting a small business; from brainstorming to evaluating the feasibility of your idea, developing the all-important business plan, learning from successful young entrepreneurs, making sound financial decisions and utilizing various entrepreneurial development services, such as SCORE, Junior Achievement, DECA (Distributive Education Clubs of America), and the National Academy Foundation.
Young Entrepreneurs Academy (YEA) – Sacramento, CA
A collaboration of the Sacramento Black Chamber of Commerce, Sacramento City College, Wells Fargo Bank, PG&E, SMUD, and AT&T. Goals: Increase the number of youth who can develop the economic capacities to succeed in creating and maintaining their own wealth; Mentorship by Sacramento business leaders; Create competent, caring and courageous business leaders; Provide scholarships for participants.
Youth Entrepreneurship Academy (YEA) – Texas Business Alliance
Equips high school and college students with the tools and resources to pursue an entrepreneurial alternative.  YEA program modules include: entrepreneurial training, financial literacy, technology, economic language, practical experience, and business and life skills.
URBAN Teens eXploring Technology (URBAN TxT)! – Los Angeles, CA
Encourages inner city teen males to become catalysts of change in urban communities. Its focus is to develop teens from South L.A and Watts into a new generation of community and technology leaders.
Empowering girls to be future technology leaders. By encouraging women to participate in science and technology today, as well as providing a solid foundation of peers, mentors, and positive role models, we hope to spark innovation, exhilaration, and motivation in young women to become tomorrow's tech leaders.
Provides curriculum, workshops, mentorship, and micro-capital for high school students in Philadelphia who wish to launch micro-ventures. Since 2009, over 200 students have worked with Startup Corps to launch for-profit ventures, non-profit social enterprises, school clubs, and movements of like-minded individuals. Music labels, neighborhood clean-up projects, a restaurant, and software development companies are just some of the student led initiatives that have resulted.
Teen Tech Camps Promote Youth Entrepreneurship. Charlotte Young. MadameNoire.com.
Tech Camps Aim to Cultivate Teen Entrepreneurs. Maeghan Ouimet. Inc.com.
Several programs offer kids with an interest in tech an opportunity to begin developing start-up skills.
Junior Black Chamber and Youth Empowerment Program. The California Black Chamber of Commerce.