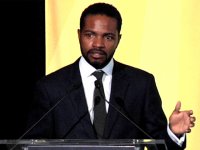 One of the very interesting presentations at the Innovation and Impact Forum for Black Male Achievement conference, held October 3, 2012 in New York City, was on the transformational potential of "impact investing" by Stephen DeBerry, Founder and Chief Investment Officer at Bronze Investments and a partner at Kapor Capital. 
According to his bio, DeBerry "makes and manages investments that align strong financial returns with positive social impact."
Watch his full presentation here: Stephen DeBerry: Power of Impact Investing & Technology.
Related:
The BlackProgress.com essay, Financing Black Progress, Part 2: A Self-Reliance "Marshall Plan": Creating a National Resource-Pooling Fund, discusses impact investing in the context of a national resource-pooling "impact fund" that can attract investments from millions of black investors.
See also: Pooling Our Resources on a Large, Transformative Scale: Breaking Through the Trust Barrier